Stay up to date in the coming days for the full line-up of events coming down the pipeline
Tomorrow, Rockcliff Metals will have their CEO Alistair Ross present on the Company's recent results, PEA, and where the Company is looking in the near term for further opportunities and growth. Later, join Contango Ore's CEO Rick Van Nieuwenhuyse for an update as they continue on their path to becoming Alaska's next gold mine.
Thursday, two panels will take place. In the morning, the Athabasca Basin Panel, featuring the CEOs of three companies with projects there will discuss the importance and state of Uranium mining in Canada and the world. Later in the day, Invest Canada North finishes off their Post-PDAC series with their final panel, featuring the Hon. Joe Savikataaq.
Friday, two more panel opportunities present themselves to round out the week. A discussion on the state and future of battery metals between three industry leaders begins the day's summits, followed later by a four-person panel discussing Canadian exploration to finish the week off.
With more events on the way, including a summit from First Mining Gold Corp next Tuesday, stay up to date on other events as this quarter comes to a close.
As always, if you have questions for any of the speakers in these events, make sure to submit them beforehand to [email protected].
Live Tomorrow, March 24th at 9:00am PT / 12:00pm ET / 4:00pm UTC
Copper Focused Producer in the Making
In this live investment summit CEO Alistair Ross as he delves into an overview of the Company's assets, as well as recent PEA results, and what the Company is looking to in the near term / The Company's extensive portfolio of properties totals approximately 4,500 square kilometres and includes seven of the highest-grade, undeveloped VMS deposits in the Flin Flon-Snow Lake Greenstone Belt.
Live Tomorrow, March 24th at 1:00pm PT / 4:00pm ET / 8:00pm UTC
Update on Developing Alaska's Next Gold Mine
In this live investment summit, CEO Rick Van Nieuwenhuyse will provide an update on the Company's $18 Million Permitting and Feasibility Program underway and the infill drilling to upgrade indicated resources to measured category and to develop a month to month mine plan for Feasibility.
Live Thursday, March 25th at 8:00am PT / 11:00am ET / 3:00pm UTC
Our Athabasca Basin Panel will feature CEOs from three mining Companies with projects based around the "Saudi Arabia of Uranium" Athabasca Basin, discussing the importance of the geology featured there, and opportunities that they are presented with.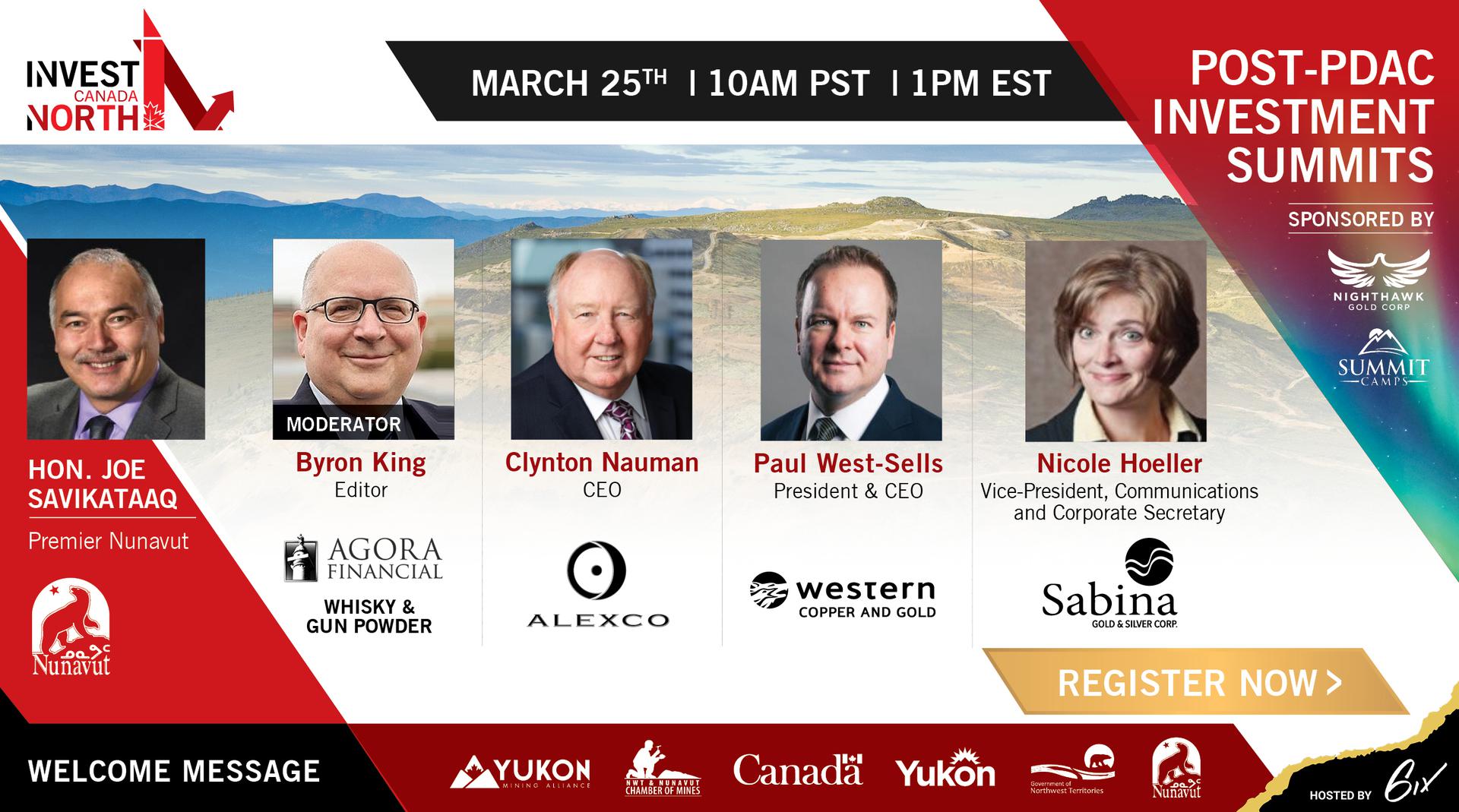 Live Thursday, March 25th at 10:00am PT / 1:00pm ET / 5:00pm UTC
Invest Canada North – Post PDAC Investment Summit: Series 4
Part Four of Invest Canada North's series will be moderated by Byron King of Angora Financial, featuring a welcome message by the Hon. Joe Savikataaq, as well as discussion from panellists Clynton Nauman of Alexco., Paul West-Sells of Western Copper and Gold, and Nicole Hoeller of Sabina Gold and Silver Corp.
The North has diverse mineral production, significant untapped geological potential, strong geopolitical stability, and progressive Indigenous and community partnerships. Continue to be a part of the conversation and register below.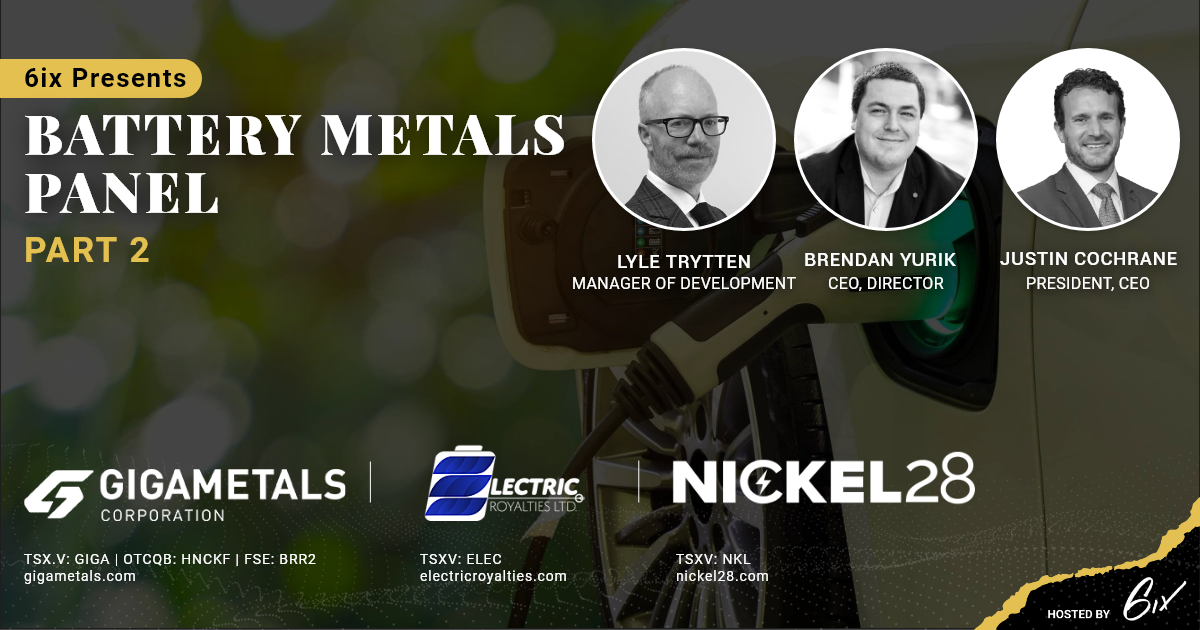 Live Friday, March 26th at 9:00am PT / 12:00pm ET / 4:00pm UTC
6ix presents Battery Metals Panel – Part 2
This event will give investors unique insights into the impact the global acceleration away from fossil fuels has on each of these leaders' companies, as well as the commodities they focus on.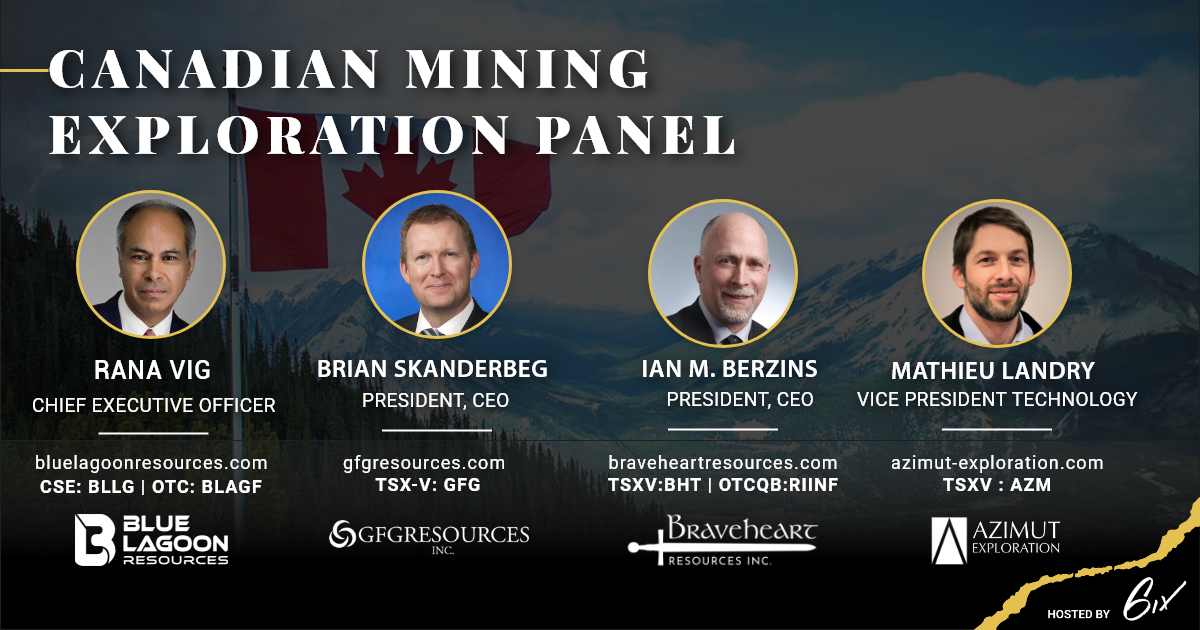 Live Friday, March 26th at 11:00am PT / 2:00pm ET / 6:00pm UTC
Canadian Mining Exploration Panel, Series 1
The Canadian Mining Exploration Panel features leadership from four Companies coming together to hold a conversation and share their experiences and thoughts on the matter.
Live next Tuesday, March 30th at 1:00pm PT / 4:00pm ET / 8:00pm UTC
First Mining Gold & Auteco Minerals Discuss Pickle Crow Drill Program, High-Grade Results and Success in Partnership
First Mining Gold's CEO & Director, Dan Wilton and Auteco Minerals' Executive Chairman, Ray Shorrocks will discuss Auteco's fulfillment of the STAGE 1 expenditure requirement for the Pickle Crow Project and provide an update on the progress of their on-going 45,000 metre drill program. This live investment summit will also highlight the two Companies' high-grade results and success in partnership.