Check out part two of Invest Canada North's Post-PDAC series happening tomorrow
Today, join Minera Alamos' President Doug Ramshaw and Willem Middelkoop for their Fireside Chat and Q&A for an opportunity to participate in a more personalized discussion regarding discovery stage investing.
Tomorrow, Bunker Hill's CEO Sam Ash is joined by CFO David Wiens in a conversation going over their major catalysts and the Company's coming year.
Continue to follow the conversation with Invest Canada North's Post-PDAC series tomorrow, as part two of four kicks off at 1pm ET. Watch a new panel of speakers as they discuss the future of Canada's northern mining.
As always, if you have questions for any of the speakers in these events, make sure to submit them beforehand to friends@6ix.com.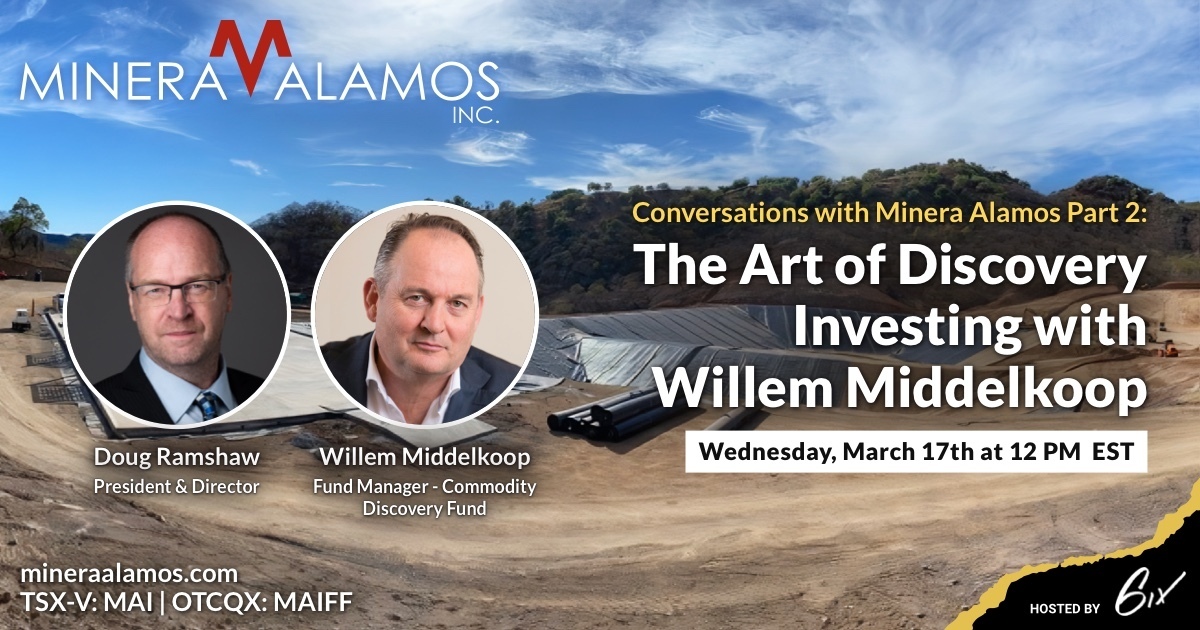 Live Today, March 17th at 9:00am PT / 12:00pm ET / 5:00pm UTC
Conversations with Minera Alamos Part 2: The Art of Discovery Investing with Willem Middelkoop
A deep dive into the value drivers from exploration success and what led Willem to establish the Commodity Discovery Fund. From Aurelian to the present day – what captures his attention and his thesis for successful investment in pre-production stories. Hosted by Doug Ramshaw who will delve into both his and Willem's history on discovery success as well as how Minera tackles its discovery side of the business a little differently than most.
Live Tomorrow, March 18th at 10:00am PT / 1:00pm ET / 6:00pm UTC
Invest Canada Post PDAC Investment Summit: Series 2
Part two of Invest Canada North's series will be moderated by Jay Martin, featuring Tara Christie of Banyan Gold, Kevin Weston of Whitehorse Gold Corp., and Jeff Hussey of Osisko Metals.
The North has diverse mineral production, significant untapped geological potential, strong geopolitical stability, and progressive Indigenous and community partnerships. Continue to be a part of the conversation and register below.